While choosing a career, Professional Modeling is the best option but as confusing as it overwhelming. And after working quite hard to achieve your goals, if you are not getting the success as you expected, it may be a time to find what you are missing actually. Yes, it's about the one or all of the following common modeling mistakes that you may be doing and only this could be the major mistake, stopping you to reach your destination.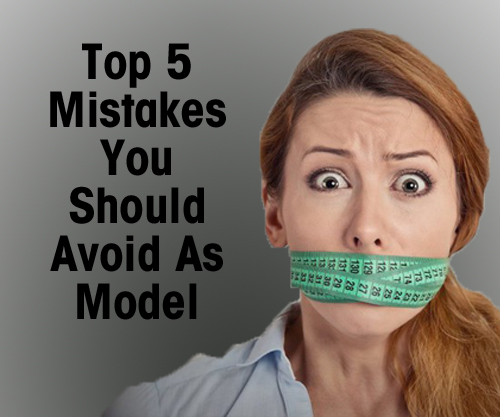 Here you will find five common mistakes in modeling that should not be done at all-
Needless Money Spending on Useless Photos and Classes
Well, money is absolutely needed to start a career, whatever this is and for modeling some basic expenses are absolutely required to fulfill the prerequisites.
In modeling, you only required different type of photos that's called simple snapshots which represent you to the agents, who you really are. Yes, that should be with pretty & bold look so the agents can understand very well that you are a novice having a zeal and could shoot with the guidance only.
While considering you as a new model, they would ask you to get bulk photos to show your bone structure, body proportion and your overall marketability to the clients. Of course professional photos are required to start a modeling career but at the same time you need to see that there is no need to spend lavishly on unnecessary photos and classes. You need to be smart and clever.
Whether you are male or female model, never make an undesirable decision related to money expenses.
Don't share Unappealing Snapshots or Digital
Agents often make their sole determination that they want to offer you a modeling contract based on your snapshots or digitals or not; therefore, it cannot be overstated just how important these types of shots are. Be sure your snapshots are clear and in focus, your hair is groomed and your makeup is fresh. Usually Male models do not wear makeup but these days it sometimes required.
Agents resize your snapshots to address whether they are fit to get modeling contract for you or not. Remember your snapshots are your identification, so your snapshots must be flawless. You must have a makeover before getting your snaps clicked. Male models need less revival of their faces.
Never Share Unprofessional Presentation
Self-presentation is an art and as an aspiring model you must know better about it. Whether sending an email to agent or presenting yourself in front of agent's clients, you must show elegance, smartness and confidence.
Keep your emails and letter precise and discrete. Your message should include all relevant features-
Women- age, height, bust, waist and hips.
Men- age, height, costume size, chest size and waist.
Or ask agent for the additional information to share if required.
Never Get OverExcited
Whether you are male or female model, everyone endeavors their best to get the success at the earliest. But getting eager and desperate for achieving the goals could be insane. Once the agents find you over excited, you may ask for some compromise or may con surplus amount. So, never do this mistake to show your eagerness.
Restricting Your Exposure
Usually, beginner model gets hesitate to show his/her talent in front of all the agents but we suggest that as a new model expose your talent to as many agents and scouts as possible. The reason behind this the physique and appearance of every model does not suit every industry and only after knowing your talent, company can offer you the best, so avoid limiting your exposure.