Irfan Khan, work as labor in a local market, had raped the girl in a secluded place, after kidnapping her and then left her for dead after slitting her throat. The Girl is in a critical condition but stable condition in an Indore hospital struggling for life. Doctor told that it will take 15 to 20 days to her to recover.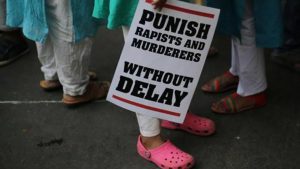 बलात्कार के दौरान हमलावर ने बच्ची के नाजुक अंगों को पहुंचाई थी भीषण चोट
There are many cases in India like these where many politicians have nothing to say. But a big question stand still. How we can resolve this? Law is there, police is there and even local people are there. We can see that most cases are in the villages, or small city and people involve in the same mostly are poor, un educated and Job less type. With the exposure to Internet they have more frustration then yesterday. Police said Irfan has a criminal record and is said to be a habitual drinker.
Solution: A big GDP or USD rate or Bullet Train is not the solution. We must first improve education system and along with it we must create a environment where we promote that law is there and you cant get away and engage youth in activities.